Safaplace is a young charity that aims to support the positive mental health and wellbeing of students in Stoke Newington School and young people in the wider community.
Our aims are to:
1. Support positive mental health and wellbeing of students in Stoke Newington school via education and awareness-raising for all,
2. Make Stoke Newington school a centre for positive mental health awareness for young people, working with other schools, those connected with education and the wider community.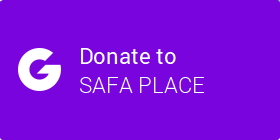 In 2016-2017 our community was struck by the loss of two of our young people, Harry and Rachel. Since January 2017, and from donations initially collected by Harry's friends, Safaplace has funded several different initiatives aimed to improve wellbeing and address mental health issues. Working to bring mental health to the fore in our community, Safaplace has funded peer listener training and sessions for families as well as for school staff. Fundraising events are taking place. A Safaplace Conference was held in April 2018, which aimed to bring together and share community expertise and experience; a further Conference is planned in May 2019.
Organisations, fundraisers and others wishing to work with Safaplace are invited to complete our projects forms, as follows:
Safaplace external project form
Safaplace funders form (where Safaplace resources might be needed)
Safaplace supporters form (no resources, Safaplace endorsement only)
Registered Charity No 1179202.